Case Studies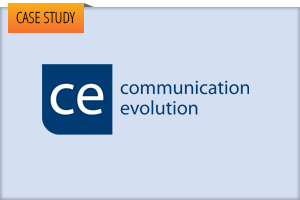 Case Study – Communication Evolution
Communication Evolution provides search optimisation services to companies such as Fairfax Media, Optus and Toyota
The Challenge
Communication Evolution had been steadily growing up until mid-2011. By that stage their existing infrastructure was completely utilised, exhibiting faults, and was preventing the development of new and improved search optimisation systems. This in turn was limiting company growth into new and larger clients.
Layered over the top of these growth requirements was the extreme complexity of network and server topology needed to achieve their goals. For example, most companies have a 10 or more ratio of staff to servers, but Communication Evolution is the opposite way around, with around 10 servers for every staff member.
In addition Communication Evolution needed to free up resources in the development area which were being consumed by ad-hoc IT tasks and preventing on time delivery of company projects. This method of IT management and administration left the Communication Evolution infrastructure underserviced, greatly increasing the risk of undetected issues and failures.
The challenge was manifold:
Deliver a new cost effective scalable architecture that would allow for a rapid future staff and systems growth,
Bring the IT environment in line with best practices
Provide ongoing management and reporting
Provide an adaptive response to changing requirements.
The Solution
There were many building blocks in this solution!
A massive expansion of the Communication Evolution data center environment, including a cluster of VMware servers on Dell enterprise servers, Dell SAN storage, low cost NAS storage, and an enterprise grade network system. All core systems were designed with a high level redundancy
Implemented a comprehensive backup and replication regime using Veeam Backup and Replication
Took on all IT infrastructure support including monitoring, task management, incident management, maintenance and detailed reporting so that internal resources to focus on core business.
As a series of prioritised projects Ovalis also
Implemented Microsoft licensing schemes to provide cost effective licensing of server products via annual licensing agreements
Migrated the domain and servers from a base Windows 2003 platform to a Windows 2008 R2 platform, including domain, web and SQL servers.
Further isolated core services to dedicated virtual servers
An upgrade of core network links to facilitate better response times
Provided remote support and backup facilities for highly mobile staff members
Further developed complex network topologies through the use of chained virtual routers, and implemented a highly redundant and diverse network with data center locations around Australia and the US
The Result
A highly scalable, reliable and serviced environment has allowed Communication Evolution to undertake an incredible transformation of their internal systems and sites and develop many systems that are unique to their field. The organisation has scaled their server compute resources up by a factor of 20 and their storage by a factor of 25 in 18 months to cover evolving needs.
Trusting all aspects of IT infrastructure delivery to Ovalis' expertise has enabled Communication Evolution's software engineering staff focus on delivering client projects and refining business systems.
Ovalis in turn provide detailed reporting on task progress, incidents, change management, acquisitions and priorities in an easy to read management report so that the Technical Director can easily determine if they meet current business needs.
These changes have been instrumental to an expansion of new clients and have helped make Communication Evolution a leader in their industry.
Quarry Mining and Construction
Quarry Mining and Construction are a rapidly growing company that manufacture and supply drilling consumables for the coal industry. They specialise in rapid design and prototyping to be responsive to drilling requirements throughout the life cycle of a mine or drilling project. Once prototypes are tested and approved, a farm of CNC lathes can provide Just-In-Time manufacture of the consumables.
They pride themselves on being highly responsive to client needs, and providing competitive Australian made products in an industry that is dominated by imports.
The Challenge
Quarry Mining started a hyperbolic growth in 2010 after they had moved from purely reselling consumables to manufacturing an increasing number standard and custom products.
Quarry Mining looked to Ovalis when they had difficulty in getting their existing service provider to understand their increasing requirements, and was starting to experience issues and failures that were disruptive to the profitability of business. In addition they had a number of projects on the horizon including a new warehouse to be built across the road, a move to a new ERP system, and a new building for their Mackay Office.
They were also looking for a more personalised IT provider that could integrate with staff, understand business needs and processes, and implement technology to help drive profitability of the business.
The Solution
An analysis of their current IT infrastructure highlighted a number of deficiencies in their IT environment, including:
The current virtualisation host was not adequate for their production system when under load
There was no dynamic monitoring of the infrastructure
There were ongoing issues with backups including significant performance issues when the existing Backup Exec backup was taking place, and no documented or tested method of restoration in a disaster recovery scenario
Their disaster recovery backup host was no longer adequate for their needs if the primary host failed.
There was little in the way of current IT documentation
Current license coverage was leaving them at risk in the event of an audit.
They could achieve significant cost savings through more aggressive negotiations directly with the hardware provider, and through a more suitable Microsoft licensing agreement
The on-site anti-spam system did not seem to be working very effectively.
As a result of this analysis we discussed and agreed to a plan containing the following key elements
Ovalis to provide In Line IT management where the primary on site person appears as a member of staff (Quarry Mining IT Manager) to internal staff and external providers.
Implement new server infrastructure running VMware with specifications to satisfy the projected growth for the next 3 years. This includes improved power and network redundancy
Engage in a company-wide annual Microsoft subscription to meet their Microsoft software obligations
Implement end to end monitoring via Solarwinds IPMonitor and an external web site monitoring service, with SMS alerting on critical items.
Move to a cloud based email scanning system that additionally provides Quarry Mining with a more secure mail gateway.
Implement tapeless offsite backup, consolidating to Veeam Backup and Replication as the sole multipoint backup product, and ensuring offsite storage rotations are adhered to via an offsite storage agency.
Implement a NAS device for backups, and low cost storage and NFS shares
Move the DR server offsite to the ISP, replicate nightly to it, and implement and test a disaster recovery plan.
Document all aspects of the IT environment, including all passwords, and make sure this documentation is available in the event of a disaster.
A quarterly capacity and performance review to determine if systems are still meeting requirements and projections.
As these project items have progressed and other tasks have been flagged and completed, Quarry Mining have received weekly reports that detail work completed or in progress, incidents/outages, acquisitions, and the current priorities for the IT Department. These reports are suitable to plug directly into the quarterly company reporting.
The Result
Quarry Mining is now experiencing a very high degree of performance, reliability and up-time, greater than 99.9% availability for any system or application. This helps them remain highly responsive
Staff are finding it much easier to communicate with their IT provider, and are highly satisfied that their IT Department is responsive and effective in addressing their needs.
In addition, Ovalis and Quarry Mining have collaborated on other projects such as the implementation of IT infrastructure for the new warehouse building and link to the main building via point to point wireless on tight deadlines with great success.